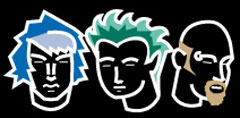 In the latest episode of Monk, one of the characters dropped a URL--therandydisherproject.com--which is supposed to be the web site for his (fictional) self-promoting rock band. Lo and behold,
therandydisherproject.com actually exists
. Currently, it serves up a web page that looks quickly smacked together using some sort of site builder, promising the following:
This site will be dedicated to the greatest rock band in the world. THE RANDY DISHER PROJECT. News, photos, gossip, tour dates and much, much more. so stay tuned everyone!
Favorite Band Member: randy disher
Favorite song: don't need a badge
The domain was registered on June 27 to a company called Weeny Entertainment Ltd. (which, according to Google, doesn't exist), and (here's the interesting part) to one "
Jason Gray-Stanford
," the actor playing the fictional
Randy Disher
who dropped the name of the site. The admin contact looks to be an ISP standard mailbox from
Adelphia
.
Could there be a Monk ARG in the works? Someone should try the e-mail addresses and phone numbers in the whois info.